Tulsa, OklahomaNovember 16, 2018 - November 19, 2018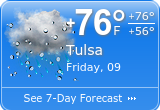 Tulsa, Oklahoma fascinated us with its sightseeing that ranged from moving tributes to the downright quirky. The sweet treats were a hit as well. We did a long weekend runcation in Tulsa to check off state #17 in Traciís goal of running a half-marathon in all 50 states of the U.S..
Things I Really Enjoyed
Black Wall Street: Greenwood Avenue was the location of "Black Wall Street". It was where blacks lived rather affluent lives during the time of Jim Crow in the early 1900's Ė that is until a race riot resulted in the bombing of the community and the death of more than 300 people. We had an informative walk down the block and a half of what remains. We learned about its history via plaques, a visit to the Greenwood Cultural Center, and a conversation with the curator of the Black Wall Street Gallery.
Wanda Jís: We had a delicious soul food meal and good conversation here during our visit to Black Wall Street.
The Cave House: I just could not resist this quirky attraction that looks like a Flintstone house built into the side of a hill. The owner gave us a tour of her eclectic collections inside the home and told us interesting stories about the place.
The Gathering Place: I have never seen a city park quite like this one. There were actually staff people directing traffic to the parking lots. The park contains inventive playground contraptions, trails, exhibits, canoe rides, and many other recreational activities to keep you busy for hours.
Things I Would Do Differently
Trip Report
Our travel day from Washington Dulles airport to Oklahoma was rather eventful. There was a small snowstorm on the day we were scheduled to leave. As a result, American Airlines allowed passengers to reschedule their flights with no extra charge. Therefore, we decided to leave Friday morning instead of Thursday evening. We had a 6:30 AM flight to Dallas, Texas where we were scheduled to take a 10:30 AM flight to Tulsa. Unfortunately, we sat on the tarmac at Dulles waiting for our plane's wings to be de-iced. We arrived in Dallas at 10:30 AM (the departure time for our Tulsa flight - Yikes!). Traci and I ran through the airport to get to the departure gate for Tulsa which seemed to be on the other side of the airport. When we arrived at the terminal out of breath, the airline employee listened to me tell her about our delayed flight out of Dulles. She then calmly pointed to the screen which indicated the Tulsa flight was delayed. In short, we did not miss our flight. Whew!
This was our first visit to Oklahoma. We were booked at the Aloft Downtown Hotel in Tulsa. We were pleased to learn the hotel had a complimentary shuttle. We took it from the airport to the hotel. In fact, the shuttle will take you anywhere within a 4-mile radius of the hotel. I thought this was very convenient. We were told by locals that the Aloft used to be an office building. Its exterior looks like a Soviet-era building with its tan block-like structure; however, its interior was that of a modern hotel.
After getting checked in, we headed to the expo which was conveniently located next door to the hotel. We picked up Traci's race packet and visited several of the vendor booths. I especially liked the booth that gave out free samples of Oklahoma beef jerky - delicious! We also had fun chatting with some of the runners we've met on other runcations. Like Traci, many of them are also chasing 50 states and seven continents.
We were starting to get hungry so we took the advice of the shuttle driver who drove us from the airport earlier and decided to go to Albert G's Barb-B-Q restaurant. We took the hotel's complimentary shuttle there. The food was very good. We decided to walk off our meal instead of take the shuttle back. Besides, this would give us a better look at Tulsa.
Tulsa has modern skyscrapers but still has a small town feel. During our walk, we went through the Blue Dome District. It is an area where there are several bars, restaurants, and shops. The district gets its name from the blue-domed building that sits at the corner. It was a popular gas station along Route 66 before the famous route was re-routed. During our walk, we also stopped at a running store where we chatted with some of the employees who were excited about all the runners they were meeting this weekend from all around the country.
Albert G's Barb-B-Q
Tulsa
We were up by 6 AM the next morning so that Traci could participate in the 5K run. We needed to be at Guthrie Green Park by 7:15 AM for a group picture with one of Traci's running groups. Guthrie Green was a 1-mile walk from the hotel. Traci ran the 5K on that 47į morning and said she felt great. During our walk back to the hotel from the race, we made a stop at the Center of the Universe. This is an interesting spot where if you can stand in the middle of a circle and speak, the acoustics makes your voice sound as if you are speaking through microphone with reverb and delay affects. We had fun with this. We also had fun taking pictures of the nearby Cloud Statue.
Center of the Universe
Cloud Statue
Traci enjoying the "Shake Out" run after the 5k
After the 5K, Traci was not quite finished with running. She headed off to do a "Shake Out" run with famed runner and author Bart Yasso (a.k.a. - "The Mayor of Running"). Eventually Traci returned to the hotel after all her morning running and got cleaned up so that we could head out for what would become a fantastic day of sightseeing in Tulsa. We had the shuttle driver drop us off at Lefty's restaurant on Greenwood Avenue. This restaurant was a suggestion by one of the employees of the Aloft Hotel. Traci and I did not see anything on the menu that interested us; however, just across the street I saw a mural for Black Wall Street. I don't remember where I first heard about Black Wall Street but I was surprised that we had stumbled upon it. Black Wall Street was a community of affluent blacks during the time of Jim Crow and segregation in the early 1900's. This all took a bad turn in 1921 when a black man was accused of inappropriately touching a white woman. He was arrested and put on trial. Tensions ran high between the black community and the white community during the trial. This eventually boiled over into an all-out race riot. The government was called in. Bombs were dropped from airplanes. Black Wall Street was burned to the ground. More than 300 people lost their lives. The blacks who survived the riot were rounded up and forced to live in an internment camp. Blacks who were once wealthy entrepreneurs were now forced to wait in line for secondhand clothing and food. This was an awful situation. To make matters worse, the lady who originally accused the black man of groping her later recanted her story. By this time, the damage (lots of damage) had already been done. After the tragedy, several blacks moved back to Black Wall Street and rebuilt some of the destroyed businesses. However, after segregation ended years later, many moved away from Black Wall Street to make a living elsewhere.
Today Black Wall Street consists of about a block and a half of Greenwood Avenue. There are plaques in the sidewalk indicating the businesses and their owners that existed here during the heyday of this street. For example, there was a plaque commemorating the Colored Insurance Association and another commemorating the entrepreneurs John and Lola Williams whose businesses included Williams Confectionary, Williams Dreamland Theater, and Williams Garage. Traci and I began our Black Wall Street exploration with a stop at the Black Wall Street Gallery where we met the curator Dr. Rico Wright. He gave us a tour of his gallery that he opened just two months prior to our visit. We saw a diverse set of portraits, sculptures, and other creations. Dr. Wright also gave us an excellent history lesson of Black Wall Street. He had recently done an interview on NPR (National Public Radio) explaining the history of Black Wall Street.
Black Wall Street Gallery
From the gallery, Traci and I walked up the street to Wanda J's soul food restaurant. It was like visiting family for a meal. Everyone said hello when we walked in and we soon joined in the conversation of the rest of the patrons who were seated in the small restaurant. We laughed together and sometimes debated. It reminded me of barbershop conversation. Occasionally, one of the cooks would even come out and join in the conversation. The food was excellent. It was our favorite meal during our time in Tulsa.
Wanda J's
From Wanda J's, Traci and I strolled the rest of Greenwood Avenue looking at plaques, looking at the exterior of Vernon Chapel AME Church, and observing the monuments outside of the Greenwood Cultural Center (we arrived after closing). While we were taking pictures in front of a grand Black Wall Street Mural across from the cultural center, we ran into a young lady from Traci's running club. She offered to give Traci a ride to the get-together that the club was having that evening. Traci rode with her. As for me, I was not attending the event; therefore, I walked back to our hotel.
Black Wall Street
I am so glad that our country has overcome those issues of blatant racism that existed during the time of Black Wall Street. I know that racism still exists. In fact, Traci and I got a dose of it later that weekend. There was a man who I am guessing was homeless mainly due to the fact that he was carrying a blanket. He seemed very agitated and angry. He happened to see Traci and me so he yelled across the street sarcastically, "Hey, I hope you have a great f---ing day, f---ing n---ers!" He then continued storming down the street away from us. Fortunately, this was the only negative experience we had in Tulsa. Everyone else we met in the city was very friendly and welcoming.
Traci's sweet tooth had kicked in by the time she returned from her running group get-together. Therefore, we headed down the street to Pinkitzel Cupcakes & Candy shop that we had passed earlier in the day. This place was quite a spectacle. It had very colorful decorations and a large variety of candy and baked goods. Traci ended up buying a cupcake. Continue...
Pinkitzel Cupcakes & Candy Shop
1 | 2
---
[Back to the Main Page]