Sydney (Ourselves)September 14 - 17, 2018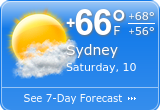 "Can you believe we finally made it to our seventh continent?" I asked Traci as we stepped off the airplane in Sydney, Australia. She glanced back at me and managed to crack a smile. It had been the longest travel time we had ever done - a nearly 6-hour flight from Washington Dulles Airport to Los Angeles International Airport at which we waited an hour to board our 15-hour flight across the Pacific to Sydney International Airport. Hopefully, these flights have allowed us to accumulate enough miles on American Airlines to take advantage of some meaningful perks. The interesting thing about the flights is that because of the time zones and because we crossed the International Date Line, it was September 12th when we departed Washington Dulles but the date we landed in Sydney was September 14th. As for the time zone difference, Sydney was 14 hours ahead of east coast U.S. time during our visit.
The lines through immigration and customs were long but were moving. This was my first time using the facial recognition technology in which you insert your passport and then the machine compares your face to your passport picture before letting you proceed. Before long we were on our way to tackle the usual adventures of arriving in a new city for the first time - obtaining the local currency, figuring out how to get to our hotel, etc...
Since the first few days of our Australia trip were on our own (meaning not part of the itinerary our travel agent created for us), I had done online research to figure out how to get to our hotel in Sydney from the airport. It turns out there is a train called the AirportLink that has a stop at Circular Quay (pronounced Circular Key) which was only two blocks from our hotel. But first, we needed to get Opal cards. You use kiosks at metro stations and other places around the city to add funds to the card so that you can pay for your ride on public transportation (trains, buses, water ferries). I got one for Traci and one for me from a booth in the airport. I also hit up an ATM machine to get some Australian dollars. One AUD was approximately equal to 0.71 USD at the time.
ready for adventure in Sydney after 21 hours of flights
It took about 20 minutes to travel by train from the airport to Circular Quay at the Sydney Harbor. From there, we only had a short distance to roll our suitcases to the Sydney Harbour Marriott Hotel. Actually, it took a little longer than we had anticipated. The Marriott is a tall hotel which we could clearly see when we exited the train station but we lost sight of it as we began walking amongst all the rest of the skyscrapers in the area. When we finally asked for directions, it turned out we were just a half a block from the hotel.
We chose the Marriott because of its convenient location to tourist attractions and because we had accumulated enough Marriott points such that our 3-night stay was free. This saved us approximately $700. Woo! Hoo!
It was around 9 AM when we checked into the hotel. At that time of the morning, it was no surprise that our room was not yet available. We dropped off our luggage with the concierge and then hit the streets. The main reason for this Sydney leg of the trip was so that Traci could run the Sydney Half Marathon (13.1 miles). She has a goal of running a half marathon on all 7 continents (In case you are wondering, yes, there is such a thing as an Antarctica half marathon and there is a waiting list for it.) I chose our Australian vacation dates to coincide with the Sydney Running Festival. Australia would be Traci's fourth continent after North America, Africa (Mt. Kilimanjaro Half Marathon in Tanzania), and Asia (Great Wall Half Marathon in China). Now that we were in Sydney, we needed to make our way to the Town Hall building to pick up her race packet. The concierge at the Marriott gave us directions on how to walk there. He added that an interesting diversion along the way would be to walk through the Queen Victoria Building. It was built in the 1890's as a grand market place. Although it is a modern shopping mall today, it retains its 19th century exterior and still contains relics from bygone days such as its artful clock hanging from the ceiling.
Race packet pick-up for the Sydney Running Festival was relatively straightforward compared to other packet pick-ups we've attended in other cities. Instead of the multitudes of vendors we normally see, there were only a handful. We were led through the building in an orderly fashion. Within about 15 minutes, we emerged at the exit with Traci's race packet, a t-shirt, and a banana.
We took some time to explore the stores in the Queen Victoria Building. It turns out the building is connected to other large shopping centers such as Westfield, Pitt Street Mall, and others. Additionally, there are stores surrounding pedestrian-only squares where street performers entertain and business people take lunch breaks. The shopping centers were pretty busy. Traci and I had to adjust our walking pattern. Australians drive on the opposite side of the street than we do in the U.S.. This seems to extend to their walking pattern as well. I found that we needed to stay to the left when walking the streets or through stores if we wanted to avoid bumping into people.
Traci and I made our way back to the Marriott around noon which was when the hotel estimated our room would be available. They were correct. We were given a nice room on the 24th floor (Room 2415) that gave a view of the iconic Sydney Harbour Bridge.
the view from our room (2415) at the Sydney Harbour Marriott Hotel
Now that we finally had our room, we really just wanted to curl up and take nap. The jet lag on this trip was wicked. We did not get much quality sleep on the flights and the time difference really had us dragging. However, we knew we could not give into our urge to sleep. We needed to get on Sydney time as soon as we could - especially since Traci had the half marathon to run in two days. We decided we would not allow ourselves to sleep before 10 PM.
It was now lunchtime. Traci and I walked around looking at the posted menus of the restaurants in the Circular Quay area. Unfortunately, we chose the wrong restaurant. The food was only so-so at most. So began our losing streak at choosing restaurants.
As usual, Traci left the trip planning to me. I knew I had better have a plan because she hates when we show up in a new place without a sightseeing itinerary. Although we would be in Australia for two weeks, I only needed to make sure we had something to do for the first three days (Friday through Sunday). After that, we would begin following the 12-Day Classic Australia package I booked through Goway Travel. My only challenge was to make sure I chose activities that did not duplicate the thorough Sydney sightseeing itinerary that Goway booked for us. We would follow their Sydney package when we returned to the city a week and a half later.
During my online research before our trip for sightseeing ideas, I came across the Sydney I'm Free Walking Tours. These are free walking tours of the city. You leave a tip at the end based on what you think the tour was worth. I figured a 3-hour walk would be a great way to fight off jet lag as well as learn a few things about the city. At the time of our visit, there were two flavors of the I'm Free Walking Tours. There was a general 3-hour city tour occurring daily at 10:30 AM and again at 2:30 PM. There was also a 1.5-hour tour of The Rocks neighborhood occurring 6 PM daily. Traci and I made our way back to the Town Hall building where the 2:30 PM city tour would begin.
There were about 30 of us following our guide who was wearing the company's bright green I'm Free Walking Tour t-shirt. I was having a difficult time adjusting to Sydney's climate. The city seems to have a relatively low humidity. Thus, I found myself removing my jacket when standing in the sun but putting it on again as soon as we stepped into the shade.
Our guide acknowledged that the Aborigine communities have been in Australia for more than 60,000 years. Today they make up less than 1.5% of Sydney's population. Our walking tour would only focus on the European history of Sydney dating back to the late 1700's. Traci and I would learn much more about Aboriginal culture later in our travels around Australia.
I was impressed by this "free tour". Our guide covered a good amount of the city. We toured Hyde Park and the Queen Victoria Building. We also looked at churches, museums, old buildings, statues, memorials, etc... I was a little disappointed that we were not able to witness the talking dog statue. It was not working while we were there. We were taken to a nice observation point for viewing the Sydney Harbor including the famous Opera House and Harbor Bridge. Our guide told stories of convicts and governance. She even took us by a few hang out spots and made suggestions on what to see in our spare time in Sydney. My favorite stop of our walk was a small alleyway where empty bird cages hang from wires between two buildings. These empty cages represent the birds that are no longer found in Sydney due to the constant building of the concrete jungle. There are recordings of bird sounds that play periodically based on the time of day when the particular species was most likely to sing. By the way, there is one species of bird that seems to be thriving in all the modernization – the Australian white ibis. We saw them often during our time in Sydney. Our guide told us they are sometimes referred to as "rubbish hens" due to their scavenging of trash bins. It is a rather large bird that has a long, skinny, curved beak.
I'm Free Walking Tour of Sydney
Martin Place sidewalk tribute to the 2014 terrorist siege victims
inside the Queen Victoria Building
fountain in Hyde Park
interesting statue
empty bird cages representing Sydney's extinct bird species
Australian white ibis (a.k.a. "rubbish hen") scavenging while a seagull waits its turn
The I'm Free Walking Tour definitely exceeded my expectations for a "free tour". However, I must back up and talk about the most amazing thing that happened to Traci and me at the beginning of the tour. While we were listening to our guide talk about some statues, I felt a poke on my back. I turned around and to my surprise, our friend Denise from the U.S. was standing there! Traci and I had no idea she would be vacationing in Australia at the same time as us nor did Denise know that Traci and I would be in Australia. Like Traci and me, she had arrived in Sydney that morning but on a different flight. She happened to be out taking a walk to fight jet lag when she saw me. She initially thought it was someone who looked like me until she saw Traci standing next to me. It still blows my mind to think that as big as this planet is and as many places a person could be that we could be on the other side of the world and end up on the same busy street in Sydney at the same time. Small world! Denise joined us on the walking tour for about an hour before she peeled off. She was staying at a hotel just two blocks from ours. We made plans to meet up for dinner later on. Wow! I am still amazed by this chance meeting even as I am writing about it more than two weeks later.
It was starting to get dark by the time our free tour ended at the Sydney Harbor. It was around 6 PM. Our guide had actually given us a 3.5-hour tour instead of a 3-hour tour. Since Australia is located in the Southern Hemisphere, its seasons are opposite of those of North America. In mid-September, Australia is coming out of its winter season and about to enter springtime; hence the shorter daylight hours. However, as one Aussie told me, they don't really get a springtime. She told me that it is cold until one day you wake up and it is hot. At that point, you know summer has begun. As for our September visit to Sydney, Traci and I never left our hotel without at least a light jacket.
As planned, we met up with Denise later that evening and walked to an Italian restaurant called Zia Pina located in The Rocks neighborhood of Sydney. It was great getting caught up with her outside of Facebook. Denise would be vacationing with her sister who was scheduled to arrive from the States the next morning. They would be visiting some of the same places in Australia as Traci and me but at different times than us. Unlike Traci and me, their trip would include a few days in New Zealand.
We had a delicious pizza at Zia Pina. Additionally, it was my first experience with a soda referred to as a lemon, lime & bitters. It tastes like a lemon ginger ale. I would drink several of these during our time in Australia. Paying for the meal did not go as smoothly as expected mainly due to differences between dining in the U.S. versus dining in Australia. I was beginning to realize that you often pay for your meal at the cash register instead of at your table. Another source of confusion is that we missed the sign that stated the restaurant will not allow separate bills; however, the cashier made an exception for us. Finally, I read that tipping at restaurants is not an expected custom in Australia. Therefore, I was caught off guard when the cashier handed me a bill with a line for a gratuity. He asked if I "wanted to leave a little something for the boys". I ended up leaving tip since he went out of his way to split our bill despite their policy. As for the rest of our trip, I rarely saw a tip line on the bill.
We ended our first day in Sydney by stopping by a gelato stand at Circular Quay to get a delicious gelato despite the chilly weather. This was the first of a near nightly ritual for me during my time in Australia.
Yum! We ate gelatos almost every night in Australia.
What a wonderful first day in Australia. Furthermore, as tired as we were, Traci and I had managed to reach our goal of staying awake until 10 PM. This was just what we needed to get ourselves on Australia time. Continue...
1 | 2 | 3 | next

~~~~~~~~~~~~
Intro | Sydney (Ourselves) | The Outback | Cairns | Melbourne | Sydney (Package)
---
[Back to the Main Page]