---
1 | 2 | 3 | next

~~~~~~~~~~~~
Fantastic Voyage 2005 | Fantastic Voyage 2006 | Fantastic Voyage 2007 | Fantastic Voyage 2010
Capital Jazz SuperCruise | One Love Gospel Cruise
&nbsp
Fantastic Voyage 2009
May 17, 2009 - May 24, 2009
This was the 10th Anniversary of the Tom Joyner Foundation Fantastic Voyage Cruise. Despite a rough start for us, the cruise turned out to be fantastic. Here is my detailed review of the Tom Joyner Fantastic Voyage Cruise 2009...
The Swine Flu Switch-a-roo
To celebrate the 10th anniversary of the Fantastic Voyage Cruise, Tom Joyner decided to go Hollywood. This year, the ship was to leave from Los Angeles, California and cruise the Mexican Riviera (Cabo San Lucas, Mazatlan, and Puerto Vallarta) instead of cruising the Caribbean as was done in previous years. By springtime, things were not looking good for Mexico. First, a travel advisory was issued because of the violent drug cartels. Then about a month before the cruise, a deadly outbreak of Swine Flu began wreaking havoc throughout the nation. This caused Royal Caribbean to suspend all cruises to Mexico. This suspension might not have been much of an issue if we were cruising the Caribbean because there are many alternative ports to visit. Unfortunately, this isn't the case when departing from Los Angeles. Hawaii is too far for a 7-day cruise, as are the nations south of Mexico. The only option was to head north. We were informed 3 weeks before our trip that our ports of call had been changed to San Francisco and Victoria, Canada. Getting a refund was not an option since the money we paid goes to the Tom Joyner Foundation Scholarship Fund charity. I wasn't upset about the situation. Who could have predicted something like Swine Flu? For me, I would happily choose my health over a risky vacation.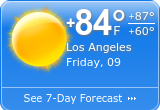 Luggage Debacle
After what seemed like an endless flight, we finally landed at LAX (Los Angeles International Airport) the day before the cruise. Traci and I gathered our luggage and headed to the man holding a Royal Caribbean sign. We were given purple luggage tags which indicated our luggage was to be delivered to the Courtyard Long Beach Downtown hotel. We left our suitcases at the curb with the rest of the luggage to be transported and were instructed to board a motorcoach.
Upon our arrival at the Courtyard, our luggage had not been delivered; therefore, Traci and I headed out to get something to eat at the Famous Dave's BBQ Restaurant at the Long Beach Harbor a few blocks away. During our walk, we noticed lots of PDA (public displays of affection) between same-sex couples. I knew San Francisco had a large gay population but I had no idea Long Beach did too. It wasn't until we were almost at the restaurant that Traci and I noticed a large banner welcoming visitors to the Long Beach Gay Pride Festival. It seemed the Tom Joyner cruise wasn't going to be the only party in town. Add to this a high school prom in the area. Long Beach was just buzzing with activity that evening.
After finishing our meal at Famous Dave's it was time for Traci and me to stop by the Long Beach Performing Arts Center for the Bon Voyage mixer and to pick up our tickets for the Morris Day & The Time concert Tom Joyner had organized for the cruise passengers. The mixer was advertised as an opportunity to meet your fellow cruise passengers and to enjoy free food and an open bar. I believe I saw the open bar but I was certainly glad Traci and I ate before we arrived. I never did see the food.
We didn't stay at the mixer very long. Traci wanted to do a little shopping before the concert. We first walked back to our hotel to check on our luggage and to get our jackets. Southern California was not as warm as we were hoping.
To our surprise, our suitcases still had not arrived at the hotel. I ran into a Royal Caribbean representative who told us all the luggage had been delivered from the airport. Yikes - not ours! She took down our information and said she'd contact us if our suitcases were found. Her use of the word if had really set Traci off.
Nonetheless, we stuck to our plan and set out into the night to the shopping center a few blocks away. Traci picked up a few last minute items and then we made our way back to the Performing Arts Center for the Morris Day & The Time concert. It was a good old-fashioned funk concert that reunited the original band members including Jimmy Jam and Terry Lewis. Morris and Jerome were up to their classic antics with the comb and mirror. It was great. Despite enjoying the show, the 3-hour time zone difference of the west coast had totally wiped us out. We left the concert at 11 PM and walked back to our hotel. Guess what? Our suitcases still had not arrived and there was no message from Royal Caribbean. The nice lady at the front desk of the hotel gave us the contact information for one of the people on Tom Joyner's event staff. Apparently, we were not the only people missing luggage.
Traci was on the phone with the contact person until about midnight while the event staff contacted other hotels to track down our bags - but to no avail. I did not sleep much that night as I lay there trying to figure out how I was going to find our luggage or worse yet, how Traci and I were going to manage on a 7-day cruise if our bags were not found.
By 6:30 AM, I decided to get up and take matters into my own hands. I decided to go online to get the names and location of the other hotels reserved for the Tom Joyner cruise passengers. I got a map from the front desk of our hotel and set out on foot to visit each of the other hotels. Finally, I cannot express how relieved I was when the bellman at the Hilton unlocked a closet and revealed our two suitcases along with about 10 other unclaimed bags. As fate would have it, the Hilton was not only the last hotel on my list but it was also the furthest away. I spent $7 on a taxi ride back to our hotel.
We had about an hour and a half before the shuttle was supposed to arrive to take us to the ship. We were supposed to follow the same drill we did at the airport where we were supposed to tag our bags and leave them for a truck to deliver to the ship. Uh, no thank you. Traci and I were definitely not going to go through that ordeal again. We put our suitcases on the bus with us and carried them onto the ship ourselves when we arrived at the pier. Unfortunately, I would meet a lady on the cruise later that week whose luggage never arrived on the ship. This was such a shame. It was her first Tom Joyner cruise and this was the first time since we've been coming on this cruise that things have been such a mess.
Let's Get This Party Started
Although this was our fourth Tom Joyner cruise, it was actually our fifth cruise with Royal Caribbean. This qualified us as Platinum members in their Crown & Anchor Society. We were able to bypass the long maze of passengers waiting to check in and go directly to the counter for Platinum members. Additionally, having filled out our pre-cruise documentation on-line, the check-in procedure for Traci and me took less than five minutes.
This feeling of privilege was short-lived once we got to the top of the escalator. With security photographing each passenger and the ship's photographers photographing people for keepsake items, the line to board the ship was extremely long. We waited for 45 minutes. However, Traci and I had our first celebrity sighting during that time. Smokey Robinson whizzed by us on his way to the entertainer entrance of the ship.
Our cabin was not ready when we boarded so we headed to our favorite little pizza shop on the Promenade Deck. Even though it was our first time on the Mariner of the Seas, we pretty much knew our way around because the ship had the same layout as other Royal Caribbean ships on which we've cruised.
Welcome aboard!
&nbsp
Our cabin was ready by the time we finished eating. We had an inside cabin with a window overlooking the Promenade Deck. For a Tom Joyner cruise, it is the best type of room to have since you can see all the parades and parties. Unfortunately, we waited too late to sign up for the cruise and thus had to settle for a cabin at the end of the Promenade Deck. Our room only gave us a view of the Shore Excursion desk. We did not have a great view of all the action this year. Other than that, we were pleased with our room. There was a bottle of wine and a box of chocolates from the Tom Joyner Foundation waiting for us when we entered. R&B music was playing softly over the PA system in our room as well as in other areas of the ship such as the elevators and Windjammer Buffet. We seemed to always be tapping our feet or bobbing our heads to a nice jam whenever we were in our cabin. During the rare occasions we did not feel like listening to music, we could simply switch off the PA feed.
Our cabin steward dropped by to introduce himself and then Traci and I headed upstairs to the Pool Deck for the Sailaway Party. At last, I began to feel like I was on vacation. The sun was finally shining. DJ Dee Wiz was spinning the cuts. People were line dancing. Rapper Doug E. Fresh along with members of Grand Master Flash & the Furious 5 were emceeing the party. Downstairs on the Promenade Deck, people were socializing. Tom Joyner was shaking hands and posing for pictures. Everyone becomes like one big happy family for a week on this cruise. We all speak to one another regardless of celebrity status or any other factors. The luggage debacle and long lines were soon forgotten. Vacation had started!
Sailaway Party
Rapper Doug E. Fresh makes a toast
&nbsp
rappers from Grand Master Flash & the Furious 5
&nbsp
Comedian Gary Owen
Tom Joyner
We eventually made our way up to the Ship Shape Center for the meet-and-greet session with the guest workout instructors for the week. Tom's wife, Donna Richardson, is a well-known fitness instructor that has been putting out workout videos for years. Traci loves to workout and has a very large collection of fitness videos. We have some of Donna's videos as well as the videos of some of the other guest instructors such as Patrick Goudeau. It was pretty cool to shake hands with these experts after having done their workouts over the years. Several of the instructors asked if I would be attending their classes that week but I respectfully declined. I had spent the last seven months losing 25 pounds by watching what I ate and sticking to the 5 AM workouts Traci designs for me from our fitness video collection (For those who are interested, here is a list of fitness videos she used to help me achieve this weight loss). Unlike Traci, I had planned for this cruise to be a week of gluttony, sleeping late, and no workouts. I did deviate from this plan one morning when Traci and I attended a tough cardio kick boxing class led by Allegra Feamster. We also rented bicycles in San Francisco and went for a 2-hour ride one day. I'll take credit for that workout as well.
guest fitness instructors
We were at dinner when our ship left port. It left almost three hours late, apparently because of all the luggage that had to be loaded. I later found out that the Los Angeles area experienced a 4.7 earthquake shortly after we left. This was not a major quake but people on land felt the rumble. We felt nothing at sea.
Concerts
The Tom Joyner Fantastic Voyage cruise is like a music festival at sea. Evenings on the ship are filled with live performances from award-winning artists. I noticed there were not as many concerts this year. There was even one night when there was no 2 AM show in Studio B. That was a first. I'm sure the recession had something to do with the cutbacks. Nonetheless, the concerts we saw were of high quality.
In past years, the musical artists that performed on the main stage did two shows. This year Smokey Robinson did only one and Laura Izibor did only one as an opening act to D.L. Hugley's stand-up comedy show. However, Michael McDonald and Babyface (opening act After 7) all did two nights.
Instead of artists performing two shows in the large lounge venue, Chuck Brown played there all week bringing a taste of Washington, D.C. Go-Go music to the cruise. It was a party from Chuck's first note to his last. Kem did one show each night in the small Viking Crown lounge on the top deck. Because of the size of that venue, many people were not able to get in. Those who were fortunate enough to see the show raved about it. Traci and I had seen Kem perform several times in the past so we did not brave the line to see him this year.
Tom tried something a little different this year for the 2 AM Studio B shows. This year, the first three nights in Studio B were host to the Old School Hip-Hop reunion. Each night had a different theme: In the Beginning, Ladies of Hip-Hop, and Bust A Move. I was wondering what type of reception these shows would receive given most of the passengers seem to be older than what would be considered the 'Hip-Hop Generation'. Traci and I had a difficult time staying up to attend the 2 AM shows. It was too easy to ignore the 1:30 AM wake-up call. We did manage to see the Ladies of Hip-Hop show. It was packed and a lot of fun. I was surprised at how many of the lyrics I knew as I joined the audience in rapping along with the performers.
Of course it just would not be a Tom Joyner cruise without Charlie "Last Name" Wilson of the Gap Band jamming in Studio B from 2 AM to 4 AM. Charlie did exactly that for two nights. Traci and I went to see him with seemingly every other passenger on the ship. His band and dancers lit up the stage. Charlie changed outfits at least three times during the show. It was a fun night. As Charlie always says, 'I don't do concerts. I party, Baby'.
Concerts
Smokey Robinson
&nbsp
Michael McDonald
&nbsp
"Salt-N-Pepa's here..."
Charlie Wilson
Those who have read my past trip reports about the Tom Joyner cruises know my major complaint has always been the amount of time we spend standing in long concert lines. Knowing what we were in for, about 45 minutes before the start of the first concert (Smokey Robinson), Traci and I began our ritual of one of us holding a spot in line while the other makes a bathroom run or stops by the cabin to pick up miscellaneous things we may have forgotten. This particular night, I took on the cabin run task. No sooner than I arrived at our room, I heard Traci opening the door. I asked her if the theater was full already. Imagine my surprise when she told me that there was no line and that the theater was not even half full yet. Sure enough, we walked right in and sat in our favorite seats. Whoa! Were we on the right cruise? Was there a misprint in tonight's concert line-up? Better yet, has Tom Joyner finally fixed the line problem that has plagued his cruises? Well, it appears the problem has been solved. The simple solution seems to be opening the doors earlier. The theater eventually filled up and there were some people who were not able to get in. For them, the concert was shown on giant screens over the Promenade Deck. We heard from other passengers that the sound was great on the Promenade Deck.
We did have to wait in line briefly for the Babyface concert and the Michael McDonald concert because each person had to have their room card marked to make sure they did not try to get in the same concert the next night. This increases the chances of everyone getting to see the main shows at least once. I was impressed with the strides Tom Joyner and his staff had made in addressing the lines and access to the performances.
Here is a list of this year's performers:
Musical Entertainers
Smokey Robinson
Kem
Chuck Brown
Lil Benny
Laura Izibor
Michael McDonald
Kenneth "BabyFace" Edmonds
After 7
Charlie Wilson (Gap Band)
Larita Shelby
Rhonda Nicole
Morris Day & the Time (played the Bon Voyage Party)
DJ Kool
Rob Base
Kurtis Blow
Grand Master & the Furious 5
Salt-N-Pepa with Spinderella
Big Daddy Kane
Dres (Black Sheep)
Whodini
MC Lyte
Doug E. Fresh
Yo Yo
Lady of Rage
Luke (2 Live Crew)
Kool Mo Dee
Comedians
Our Celebrity Sightings
Kym Whitley
AJ Jamal
Marvin Dixon
Damon Williams
Sheryl Underwood
Gary Owen
Akintunde
Paul Mooney
D. L. Hugley
HypnoBro
Tom & Donna Richardson Joyner
J. Anthony Brown
Sybil Wilkes
Myra J.
Ms. Dupre
Jacque Reid
Star Jones
David & Tamela Mann (Meet the Browns)
Soledad O'Brien (CNN)
1 | 2 | 3 | next

~~~~~~~~~~~~
Fantastic Voyage 2005 | Fantastic Voyage 2006 | Fantastic Voyage 2007 | Fantastic Voyage 2010
Capital Jazz SuperCruise | One Love Gospel Cruise
---
[Back to the Main Page]